Go natural and less processed -- always buy loose leaf  tea to get maximum health benefits and enjoy great taste. Tea bags are convenient but mostly processed material used to produced tea bags .
In the beginning you would never like the taste of real tea you have to develop the taste of it and WHY you should do it because of these following healthy reasons!!
Few more important facts about tea(study shows):
Harvard Women's Health watch issue once published, tea's health benefits are highly because of high content of flavonoids — plant-derived compounds that are antioxidants. Green tea is the best food source of a group called catechins.To get maximum benefits of tea we should drink tea 3 cups a day.Tea should steep 3-5 minutes to bring out its catechins. They best way to get catehins and other flavonoids in tea is to drink freshly brewed tea. Store bought pre made bottle tea, decaffeinated and instant teas have very less of these compounds.
Note : Drinking tea may slow down the absorption of iron from fruits and vegetables. Adding milk to black teas and adding lemon to green teas\ Oolong teas\ rooiboos teas\white teas or drinking tea between meals can counteract this problem.
A Chinese study shows that people who consumes Oolong or green tea regularly they have 46%-65% less risk of hypertension than people who do not consume tea at all.
Miracle of Green tea :
Now Scientific research in both Asia and the west is providing hard evidence for the health benefits long associated with drinking green tea. For example, in 1994 the Journal of the National Cancer Institute published the results of an epidemiological study indicating that drinking green tea reduced the risk of esophageal cancer in Chinese men and women by nearly sixty percent. University of Purdue researchers recently concluded that a compound in green tea inhibits the growth of cancer cells. There is also research indicating that drinking green tea lowers total cholesterol levels, as well as improving the ratio of good (HDL) cholesterol to bad (LDL) cholesterol.
13 Main reasons why we should drink good green tea or any kind of tea:
Green Tea prevents cancer: Study shows consuming green tea may reduce the death from cancer in general and especially reduce the death from gastrointestinal such as stomach, esophagus and liver cancer.
Drinking tea helps Weight loss study shows. Please see this article, http://www.aolnews.com/2011/03/28/drinking-tea-helps-weight-loss-study-shows/ 
Green tea restricts the increase of blood cholesterol
Green tea controls high blood pressure
Green tea lowers the blood sugar level
Green tea suppresses aging
Green tea stops cavities
Green tea fights virus
Researchers found that routine intake of green tea may also help promote healthy teeth and gums. The study analyzed the periodontal health of almost 1000 men, and found that those who regularly drank green tea had superior periodontal health than subjects that consumed less green tea. http://www.perio.org/consumer/green-tea.htm
Drinking a cup or more a day of green tea may counteract the effect  of smoking on lung, especially in smokers who may not be genetically susceptible to the cancer, according to a Taiwanese researcher.
Green tea refreshes mind and body
Researchers  found that White tea  was the best tea for inhibiting cell mutations — Especially  early stages of cancer !
New study found that to avoid inflammatory diseases people should drink (any kind of tea)at least 3-4 cups of tea a day. Any kind of tea like black tea, fruit tea and Roiboos is good for health. Drink  iced fruit tea, green tea instead of artificially flavored carbonated water and sugary  drink .
http://www.webmd.com/food-recipes/features/health-benefits-of-green-tea 
Good website to visit , http://www.well-beingsecrets.com/benefits-of-green-tea/
A good link from The NewYorkTimes about tea,
New interesting finding about Green Tea you might like to read
Green Tea reduce risk of functional disability: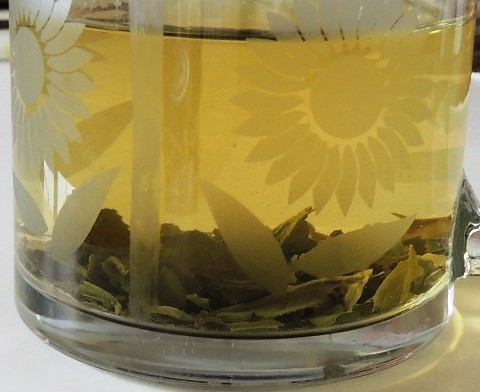 Green tea contains polyphenols, for which previous studies have suggested a wide range of health benefits, including cardiovascular disease, cancer, Alzheimer's Disease, and oral health. Yasutake Tomata, from Tohoku University Graduate School of Medicine (Japan), colleagues analyzed data from 13,988 men and women, ages 65 and older. You used a questionnaire to assess green tea intake and other dietary and lifestyle factors. After following the subjects for three years, the team noted that drinking one or 2 cups of green tea a day associated with a 10% reduction in the risk of functional disability, as compared to people who drink less than one cup a day. As well, the subjects who drank at least 5 cups of green tea a day reduced their functional disability risk by 33%. The study authors conclude that: "Green tea consumption is significantly associated with a lower risk of incident functional disability."
Source: http://www.worldhealth.net/news/green-tea-wards-functional-decline/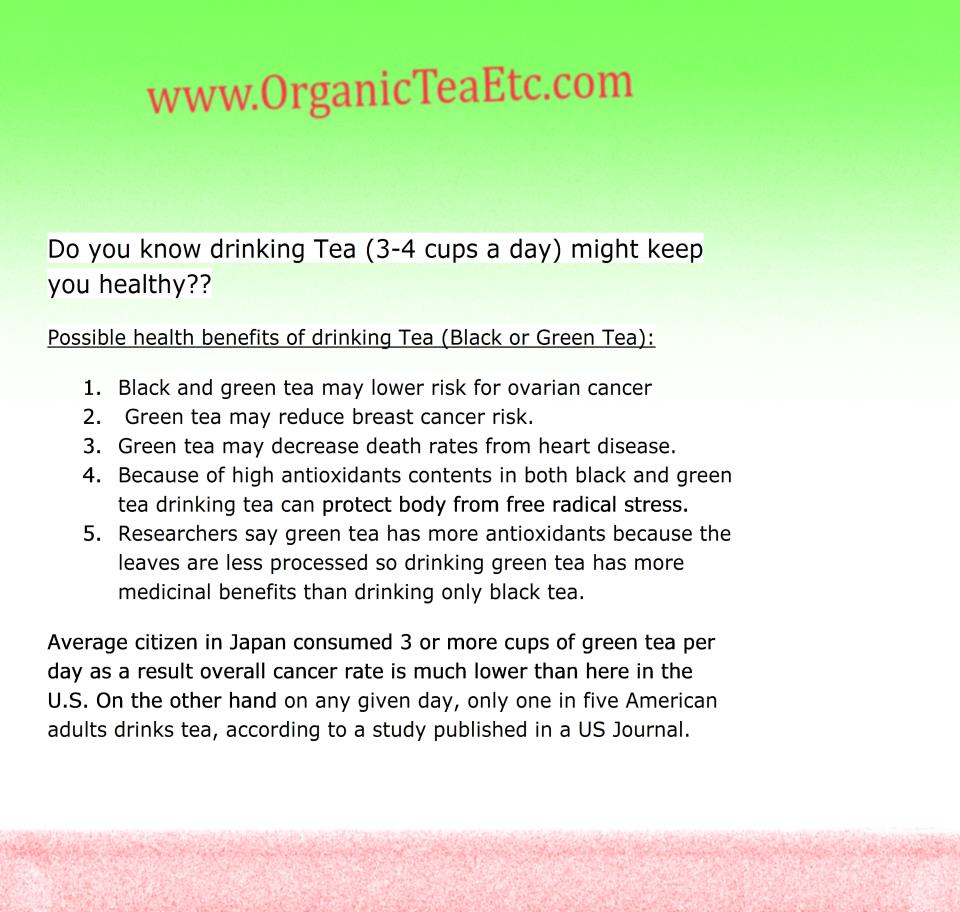 What is Matcha ?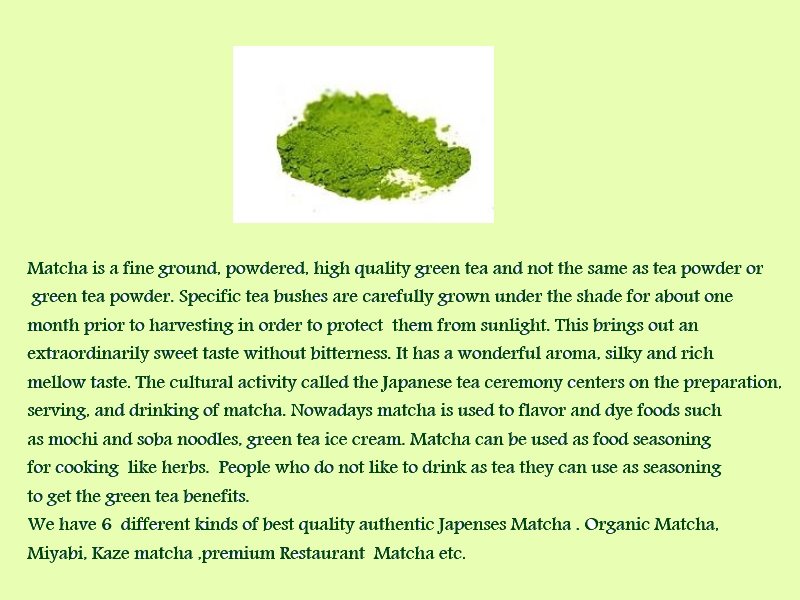 How to make hot Fruit tea\ Green tea \Rooibos\ Oolong \black tea:
For single cup of tea in a tea ball infuser add 1\2 tea spoon loose leaf tea and close the infuser. Pour hot water in the mug and drop the tea fill infuser and let it sit for 2 minutes. Take out the infuser from the cup and add few drops of honey or organic raw sugar.
To make ice tea follow the almost same instruction as above but instead off adding full cup of hot water add hot water just to submerge the infuser and after taking out the infuser fill the rest of the mug with ice water here you have your ice tea.
Fine quality green tea always tastes good when you make it in a teapot.
How to make restaurant style black Masala tea
You can follow the same instruction as above to make black tea. But to get the restaurant tasting tea in a small saucepan warm some milk depending on how many cups of tea you are making. For two cups boil two cups of milk once milk start boiling add one tablespoon loose tea leaf and boil for another 1-2 minutes and strain it in a strainer and add some sugar . Enjoy the aromatic tea with all the goodness of 6 different spices and herbs.
How to make tea in a regular Coffee Maker