Video is coming soon!
How to make hot Fruit tea\ Green tea \Rooibos\ Oolong \black tea:
For single cup of tea in a tea ball infuser add 1\2 tea spoon loose leaf tea and close the infuser. Pour hot water in the mug and drop the tea fill infuser and let it sit for 2 minutes. Take out the infuser from the cup and add few drops of honey or organic raw sugar.
To make ice tea follow the almost same instruction as above but instead off adding full cup of hot water add hot water just to submerge the infuser and after taking out the infuser fill the rest of the mug with ice water here you have your ice tea.
Fine quality green tea always tastes good when you make it in a teapot.
How to make restaurant style black Masala tea:
You can follow the same instruction as above to make black tea. But to get the restaurant tasting tea in a small saucepan warm some milk depending on how many cups of tea you are making. For two cups boil two cups of milk once milk start boiling add one tablespoon loose tea leaf and boil for another 1-2 minutes and strain it in a strainer and add some sugar . Enjoy the aromatic tea with all the goodness of 6 different spices and herbs.
How to make tea in a regular Coffee Maker :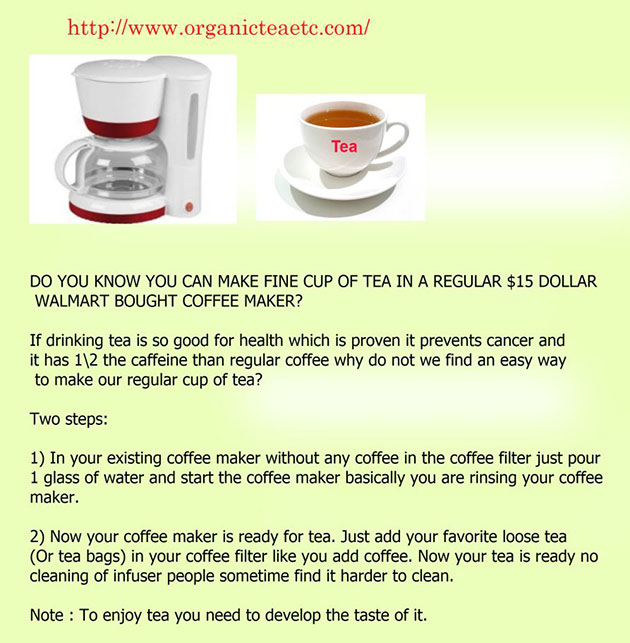 Quick and easy steps to make your green tea tastes good.
Do not add too much green tea leafs  to your drink it will make your tea bitter . 1\2 tea spoon is good for 4 oz mug. To get the health benefits and  real green tea taste try to use loose leaf tea always.
For full leaf green tea you do not even need a strainer or a infuser. In a mug first pour  boiling water  next add your tea leafs and cover it . Initially tea leafs will float on the top. After few minutes depending on the green tea (average 3-5 minutes) you will see tea leafs will sink in the bottom of the mug and top part of the drink will be clear green .
Now  you can drink directly from the mug or  pour slowly to a  different mug . If you see one or two green leafs are floating that's fine you can eat them  which is very healthy. You just do not want to eat  the tea stamps.
In your green tea you can  add  freshly  squeeze lemon juice  and a drop of honey .
What about 1 table spoon orange juice and a drop of honey for 1 big mug of plain green tea .
If you like Mango you can try this   Mango green tea