[wpgft id=2]
How to buy & use our  gift certificate  ?
Very easy and most convenient way to give OrganicTeaEtcgift card.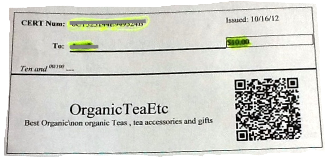 By clicking  orange "Purchase cert" button you will have to complete the the process  paying by Pay pal. Please give a valid email address because after completion of payment process you will receive an email immediately with  17 digit "CERT Num" something like the picture above. You can email  that certificate to anyone as gift. People who will have that certificate they can copy and paste that code in our shopping cart''s  "coupon code " box to redeem when they order anything from our store . Can not redeem cash . It  will valid for 2 years.