Rooibos Teas – Caffeine free and rich in antioxidants
Rooibos tea is herbal tea which is made from a shrub that grows in the African western cape in the mountain regions. Commonly known as the rooibos plant, its scientific name is Aspalathus Iinearis. The tea itself is made from a select few plants that grow typically on the beautiful Cederberg Mountains. The plant is also cultivated commercially on the sandy soils of the valleys of Hex,Breede and Olifants Rivers.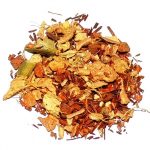 Ancient and modern use
Rooibos tea is known to have been used since the 17th century as a black tea substitute which had been a very expensive commodity in those times. Today, rooibos tea is quite popular because it has a very high amount of antioxidants and is caffeine free. The fact that it is caffeine free makes it very desirable for people who don't want to consume any stimulants but still want to enjoy all the benefits of a powerful herbal tea. When compared to other unoxidized green teas and oxidized black teas, rooibos tea has lower tannin levels.
Antioxidants in rooibos tea
Aspalathin, an antioxidant found in rooibos tea is known to have powerful antioxidant and antimutagenic properties. It also has a phenolic antioxidant known as nothofagin and various other compounds such as dihydrochalcones, flavanones, flavones and flavanols. Many of these compounds are known to protect the body from cancer. Unlike green and black teas, rooibos tea does not have any EGCG or Epigallocatechin-3-gallate antioxidant.
Benefits of rooibos tea
Various studies show that rooibos tea helps with digestive problems, allergies and nervous tension. In Africa, the tea was traditionally used as a cure for dermatological conditions, asthma, allergies and infantile colic. Various in vitro studies show that rooibos tea may also help inhibit the xanthine oxidase activity which in turn helps our body covert purines into uric acid. Inhibiting xanthine oxidase also help treat gout.
The antioxidants found in rooibos tea help make the immune system stronger and protect us from various diseases. There are only a very few human studies conducted about the benefits of this incredible tea. However, animal studies show that rooibos has powerful antioxidants, chemopreventive and immune modulating effects.
The high mineral content in Rooibos makes it a perfect, all-natural sleep aid and helps to induce relaxation. From helping to clear skin to curing stomach cramps, this herbal option is unique and has grown in its popularity and rightly so. Because the tea is so versatile, full of healthy properties, and can be enjoyed in both hot and cold form, it is often referred to as a 'superfood'. Often a popular added flavor to cold teas, juices, and even skin care products, Rooibos packs a double punch as a healing and health aid tea and a deliciously mild drink.This  tea can also be enjoyed with honey and lemon slices for those who do not enjoy milk.