Rooibos and Honeybush both have many similarities. They both grows  in small part of South Africa. Rooibos grows in western Cape province of South Africa and honeybush grows small southwest and southeast part of South Africa.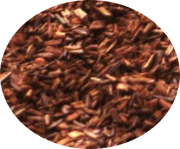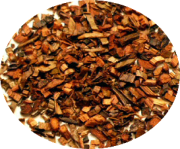 Honeybush is so named because the  flowers smell like honey. The taste of honeybush tea is similar to rooibos but honey bush is  little sweeter than rooibos. Both are much more fragrant than any tea prepared from Camellia species like black tea and green teas.
Rooibos and Honey bush they are both caffeine free and have almost same  health  benefits .
How to prepare  plain rooibos or honeybush in South African  way:
In South Africa people drink rooibos \honeybush tea every day like in India people drink black teas and in China or Japan people drink green teas. They prepare rooibos \honey bush tea exactly the same way people make black tea with sugar and creamer.
Method:
Boil water in a saucepan once water start boiling add loose rooibos\honeybush or you can use tea bags too but I personally prefer using loose tea to get the maximum flavor. Let them boil for another 2-3 minutes at this point add real milk (depending on how strong or light tea you want), sugar,  you can add spice too(read my previous post making spice tea) and boil for another minute,  then turn the heat off and cover it for 1-2 minutes to marry all the flavors together.  Strain it and enjoy rooibos\honeybush tea in a black tea style .
Drink tea and stay healthy (Always in moderation )!