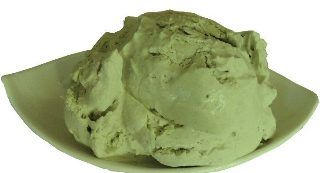 Ingredients:
You would need ,
Green Tea Matcha powder  -----  2  big  tea spoon 
Heavy whipping cream  --- 1 cup 
Confectioners  Powdered Sugar  ---- 2 & 1\2 tea spoon 
Vanilla essence -- 1\4 of tea spoon (optional)
Method :
In a small bowl mix the matcha powder with little hot water just to make a thick paste mix well with a spoon until it become a smooth paste. Add sugar  and mix it well. Add the paste to heavy cream and whisk it well  and pour it in a ice cream maker and in 5 -10  minutes your creamy home made green tea ice cream will be ready to eat and serve.